Meet Dr. Howard
I enjoy providing a service that changes people's lives. It feels great to see my patients' joy after I have improved their smile or relieved their discomfort. One of the most important aspects of my job is to educate patients on how to properly care for their teeth and to improve their general health. I take great pride in the quality of work my staff and I deliver.
Education and Experience
I completed my dental training at Creighton University School of Dentistry, earning my Doctorate of Dental Surgery. Prior to dental school, I attended University of San Francisco where I studied German and Psychology.
Dentistry is always changing, and it is important to keep up with the latest research to best serve my patients. I am an active member of the West Seattle Study Club, the Frank Spears Study Club, and the Renaissance Study Club. I also take continuing education courses through the University of Washington.
Professional Memberships
In the Office
I enjoy meeting and getting to know my patients, and I believe that good communication is paramount to success. A visit to the dentist is a very personal experience and each patient has specific needs. For this reason, I schedule extra time at every appointment to simply catch up and talk.
My team is made up of the most amazing people who share my commitment to patient care and customer service. Patients feel comfortable in this office, greatly due to the professionalism and friendliness of my staff.
Family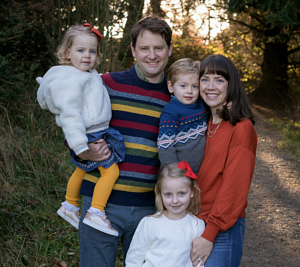 My wife, Tara, and I met at Creighton University during dental school. Following graduation, we decided to settle in Seattle because of its proximity to the outdoor activities we enjoy. Along with our 3 children and dog Bobby, we love to explore the Pacific Northwest. Whether it's rainy or sunny we get outside to hike, camp, bike, ski, or snowboard as much as possible.